AAL-PCEICL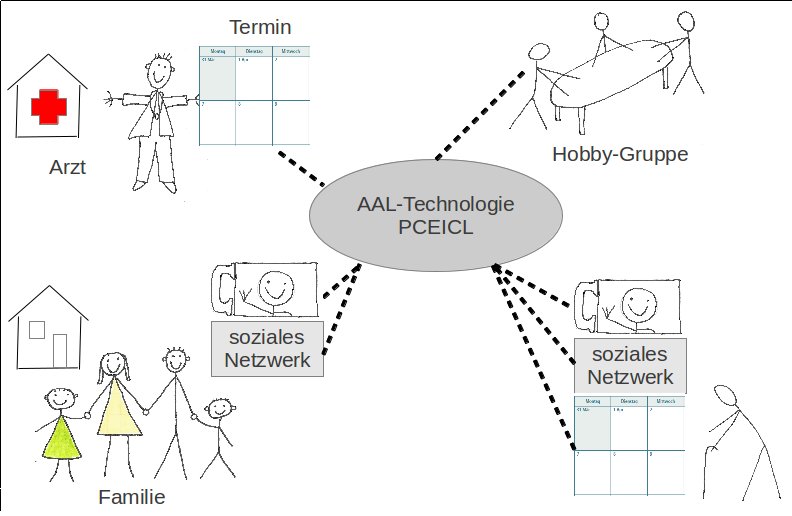 AAL Person Centered Environment for Information, Communication and Learning
AAL-PCEICL is a research project which tries to develop assistive systems and technologies to safeguard social relationships and participation for those in need of assistance. The project goals of AAL-PCEICL are assistance in communication, information management and in the establishment of an age-appropriate individual learning environment.
In the research project "Assistive Systems and Technologies to Secure Social Relationships and Participation for People in Need of Assistance", innovative assistive systems and technologies are to be developed to support independent living into old age and to secure social relationships and participation for people in need of assistance.
This subproject is based on the following scenario:
Mr. F. lives alone as a widower on a large Black Forest farm. His two children now live abroad and in a distant city. They can only visit their father very rarely. Medical care in this rural region is becoming increasingly difficult since the last country doctor closed his practice for reasons of age and is unable to find a successor. Since Mr. F. fell on the icy plot of land during one of the long winters and has been disabled ever since, his children have been worried, but are at a loss as to how they can support their father. Mr. F. wants to maintain contact with his children and his social environment, is involved in the local museum of local history and wants to continue indulging in his hobby, model railroading.
Research theme

Computer Science and Media
2015
Carina Rosencrantz, Hendrik Kuijs, Christoph Reich (Hochschule Furtwangen) und Barbara Weber-Fiori, Maik H.-J. Winter (Hochschule Ravensburg-Weingarten); Entwicklung einer Informations- und Kommunikationsplattform für ältere Menschen; ENI 2015, IT im Gesundheits-, Pflege- und Sozialbereich: Qualität und Effizienz durch IT
Hendrik Kuijs, Carina Rosencrantz und Christoph Reich; A Context-aware, Intelligent and Flexible Ambient Assisted Living Platform Architecture; Cloud Computing 2015: The Sixth International Conference on Cloud Computing, GRIDs and Virtualization, IARIA; ISBN: 978-1-61208-337-7
2014
Carina Rosencrantz und Christoph Reich; Big Data improving Ambient Assisted Living Solutions; BW-CAR SInCom 2014; ISBN 978-3-00-048182-6
Hendrik Kuijs und Christoph Reich; An AAL Platform as a Service Architecture for Context Aware Applications and Services; BW-CAR SInCom 2014; ISBN 978-3-00-048182-6
Carina Fredrich, Hendrik Kuijs and Christoph Reich; An Ontology for User Profile Modelling in the Field of Ambient Assisted Living; SERVICE COMPUTATION 2014: The Sixth International Conference on Advanced Service Computing; ISBN: 978-1-61208-337-7
Stefan Eggert and Artur Fertich; JADE-OSGi im Bereich des Ambient Assisted Living; STeP 2014; ISBN: 978-3-11035865-0
Carina Fredrich, Hendrik Kuijs und Christoph Reich; Benutzerzentrierte Ontologie im Bereich Ambient Assisted Living; STeP 2014; ISBN: 978-3-11035865-0
Studentische Arbeiten
2015
Tamires da Thenica Machava, AAL-adaptierter Entwicklungsprozess auf Basis von Scrum, Bachelor Thesis
Yannick Löffler, Erzwingen von AAL-Richtlinien in Apache Cordova, Master Thesis
Svenja Storz, Eduard Wolf, Alexander Sinner, Gymnastikcoach-Applikation für ältere Menschen, Semesterprojekt Master
2014
Stefan Eggert, Artur Fertich, JADE-OSGi im Berreich des Ambient Assisted Living, STeP 2014, ISBN: 978-3-11035865-0
Stefan Eggert, Kontext-basierte Agenten-OSGi Plattform in AAL, Master Thesis
Michael Kurosch, Kontext gesteuerte Suche-Biete-App für ältere Menschen, Bachelor Thesis
Dimitri Jahn, Kommunikations-App User Interface für ältere Menschen, Bachelor Thesis
Gülay Karaoglan, Florian Klaus, Anna Lorenz, Perihan Özacar, Ali Karadag, Die Modelleisenbahn Applikation (Lastenheft), Semesterprojekt Bachelor
Emre Arikfidan, Ivan Manduric, Mustafa Ceylan, Sarra Attafi, ComInfoApp für ältere Menschen (Lastenheft), Semesterprojekt Bachelor
2013
Carina Fredrich, Kontextgetriebene "Software as a Service" im Bereich "Ambient Assisted Living", Master Thesis
Benedikt Recktenwald, Verteilte Komponentenarchitektur in der Cloud, Master Thesis